#7: The words you choose matter
And you should chew them thoroughly before spitting them out
Accessibility is much more than technical practices like using the alt text field on Twitter or captioning your Instagram videos. It sits under the umbrella of inclusion, which aims to make everyone feel equally welcome and valued in physical and digital spaces as well as providing equal opportunities to all.
The words you choose can help or hinder the goal of being inclusive. If you're choosing ableist words or rhetoric, even unintentionally, you could be making disabled people feel excluded.
Unlearning harmful language takes time. When you create content, try to step outside yourself and think about how your words could impact other people—people who don't look like you or share your life experiences.
Social media may be fast, but the process through which you create your content should be thorough and thoughtful.
Alexa
---
Digital Accessibility Win of the Week
I was pleasantly surprised when my friend Tori informed me that Pinterest Presents, the platform's virtual summit, not only provided captioning during the sessions but an on-camera interpreter as well. That's what every virtual event should be doing!
Apparently, there was also an entire session on accessibility during the summit, which is so wonderful. Shoutout to my friends Tori, Chelsea, and Kristen for tagging me with all this great info. They're outstanding women doing amazing marketing work, and you should definitely follow them. After all, it is International Women's Day!
---
Digital Accessibility Fail of the Week
I know I repeat myself a lot, but I'm going to say it again: ASCII art is not accessible for screen reader users. I was disappointed to see Canva post this tweet last week.
Not only is this tweet a hot mess when my screen reader tried to read it, but you can also see that the formatting doesn't always stay put. When I saw it on my TweetDeck dashboard, it even looked like a swastika. However, Canva did respond to the backlash it received and vowed to do better in the future. Hopefully, they keep that promise.
---
Have you recently spotted a major digital accessibility win or fail on social media? Send it to me! I might just feature it in my next newsletter. Feel free to email me at hello@therealalexa.com or you can DM me on Twitter. My inbox is always open!
---
You Should Retweet This
I hate auto-captions, or as Meryl hilariously calls them here, auto-craptions. They're normally not very good, don't pick up on punctuation or proper names, and have a hard time discerning non-speaking sounds. Meryl does a wonderful job outlining why we should stay away from auto-captions when we have the option to manually write or correct our captions.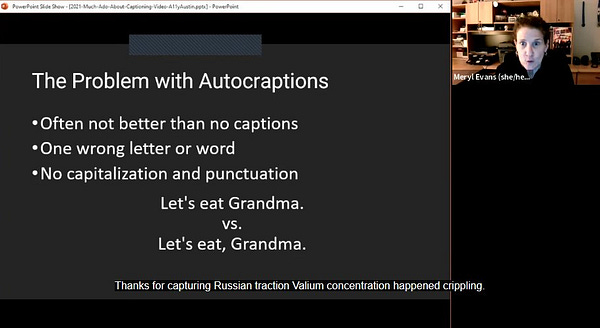 ---
Word of Advice
Captioning can be time-consuming, especially if you're creating longer videos. However, you can use YouTube for an easy captioning hack. If you have time, upload your video to your YouTube channel as an unlisted video and then let it sit. I normally upload my videos right before I go to bed and let YouTube do its thing overnight. YouTube will generate auto-captions for your video that you can then edit so they're accurate. After you've satisfied with your captions, publish them and switch your video from unlisted to public. And just like that, you made YouTube do the heavy lift for you.
Looking for an easy way to double-check your social media content before posting it? Download my handy checklist and make sure you always have the basics of digital accessibility for social media covered!
---
One Last Thing
Support disabled women. Period.
---
Secrets, secrets are no fun unless you share with everyone! This logic also applies to newsletters and your Netflix login.